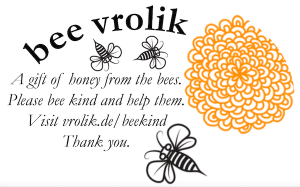 bee vrolik
You received a gift of honey from the bees? Please bee kind and help them and their friends. Thank you.
Wheen Bee Foundation
The purpose of the Wheen Bee Foundation is to raise awareness of the importance of bees for food security, and to raise money to help fund research projects that will address the national and global threats to bees.
wheenbeefoundation.org.au/donate
Sleepy Burrows Wombat Sanctuary
Where wombats dominate and humans accommodate! Sleepy Burrows is a self funded wombat sanctuary in NSW, Australia. We specialise in rehabilitating injured, orphaned and pet wombats. We raise orphaned wombats and teach them the necessary skills so that they can be released back into the Australian bush, where they belong.
Queensland Greens
Locally-based and independent of corporate interests, we are affiliated with the Australian Greens and part of a worldwide network of Greens parties. Our four guiding principles are: non-violence; social justice; grass-roots democracy; ecological sustainability. We believe these qualities are essential for human survival and well-being.
Queensland Conservation
Queensland Conservation is the state's peak non-government environment group. We have been working to protect, conserve and sustain Queensland's unique natural environment since 1969. We are a non-profit incorporated association with no political affiliations. Our members are made up of environment groups throughout Queensland, linked through a simple structure consisting of an elected governing council, specialised staff and dedicated volunteers.